Tips
We purchased headphones so the child reviewing could listen without distracting the other children. It is good to have a specific area where they will be doing their spelling review.
Teach your students how to use the pause button so that they can review at their own pace.
These review lists are not going in their Learning Logs, but rather in a separate notebook. It is nice to keep the review lists together so you can look back at how they are improving and/or see patterns of problems in their past work.
* The number of lists you have your children review each day is entirely up to you. My youngest (1st grade) had no problem listening to the audio for the current week's list as well as two review lists. Older students may be able to handle more. Just be sensitive to the needs of your children. I have found that for my children, listening to the audio is somewhat of a novelty and they never complain about doing it.
Tools
Here you can download tools to use with the Spell to Write and Read Companion Audio Set. (you will need Adobe Acrobat Reader to view)
SWR Companion CD Set Key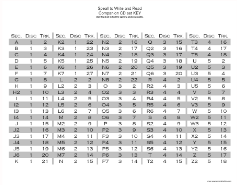 Use this key to help you find the spelling sections on the CDs with ease. This is not needed if using the MP3s.
SWR Spelling Review Sheets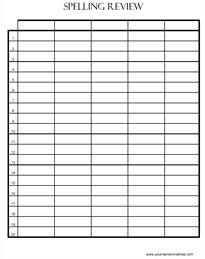 Download and print these review sheets to keep your students organized.
This is how we use the audio in our home:
Monday – dictate the spelling words to my children as per Wanda's instruction in Spell to Write and Read. After dictation, my children will go to the audio and review the spelling list from the previous week.
Tuesday – Wednesday – Thursday - we do a few of the Spelling Enrichments for our current lesson. The children will go to the audio and review the current week's list as well review two other lists*. The lessons that my children are reviewing are based on their mastery. Some children struggle with words that are easy for other children and vice versa. I like to see them get 100% on each list several times before we stop reviewing that list. Even when they have spelled the list 100% correct several times, we are able to go back several weeks/months later to make sure the lists are still mastered. I will correct their lists or they will go to the WISE guide themselves and check their work. We talk about the areas they are struggling, write the words correctly and mark them.
Friday – use the audio to "test" the current week's list. Correct together and discuss any problems they may be having. We also finish any spelling enrichments we didn't get to during the week.
The audio is a tool for you! Feel free to use them for your student's review and mastery the way that you feel works best in your situation!